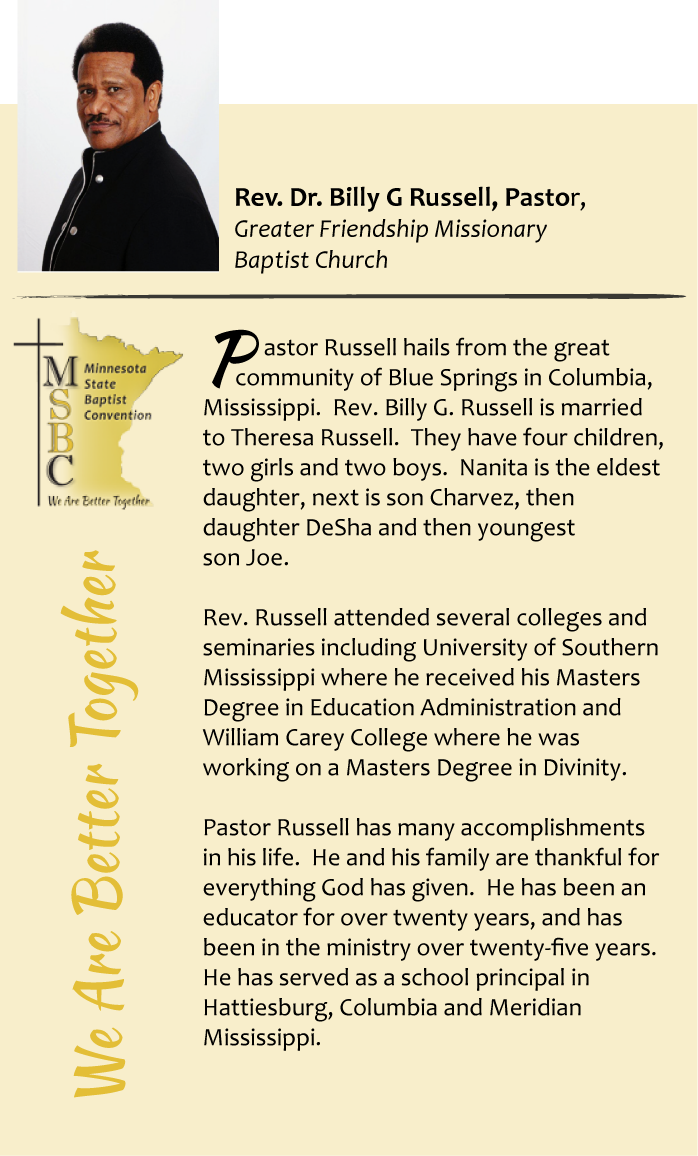 To all members and churches of the Minnesota State Baptist Convention. As we continue to the work of the Lord I want to first thank you for your love and devotion to the ministry as we continuously pursue God's will for our lives, ministries, churches, and our Convention.
We may have theological differences with other Christian fellowships, and those differences may be worthy of debate, but if we agree on the fundamental truth that Jesus Christ is Lord, then we need to unite with one another on the basis of that common ground.
It comes down to this. There is one question that we need to ask of ourselves and of those in our circle:
"What good can we do together?"
Can you imagine what would happen if every family decided to ask this question:
"What good can we do together?"
Or what if every church asked it? Instead of talking about how wrong everyone else and how terrible the whole world is? What if a church joined hands in unity and said:
"What good can we do together?"
What if several churches in a community asked that question? Or, a state wide convention? Can you imagine the good that could be done?
"The good news is Christians are working together to build hospitals and preach the gospel and help those who are suffering. It's happening all over the world and it's happening in our State Convention. But it needs to happen a little bit more. This attitude needs to become second nature to us. It needs to define the way that we think and the way we interact with others.
You and me, we have the potential to unite with one another and say, "What good can we do together; to swarm this community with the love of Jesus Christ." Let's not wait for someone to do it for us, Let's do it together.
We're Better Together!
MSBC Auxiliaries
President, Pastor Billy G. Russell
First Vice President, Pastor Runney D. Patterson, Sr
Second Vice President, Pastor Clarence Hightower
Third Vice President, Pastor Gaither Robinson
Administrative Assistant, Pastor Brian Herron
President, State Congress of Christian Education, Pastor James C. Thomas
Dean of Congress, Pastor Charles Gill
Director of Church Relations, Pastor Charles Graham
Director of Education, Pastor Earl F. Miller
Treasurer/Budget Director, Sis. Bernadette Hebert
General Recording Secretary, Sis. Vanessa Carr, Sis. Wanda Fortune Stiffen
General Corresponding Secretary, Sis. Lucy Zanders
Moderator, Metropolitan Baptist Association, Pastor Aaron Bellfield
Evangelist, Karen Johnson (District Women)
Yours in Christ,
Reverend Billy G. Russell
President